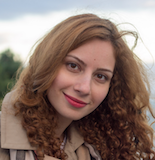 Shaghayegh (Sherry) Sahebi
Assistant Professor,
Department of Computer Science,
College of Engineering and Applied Sciences
1215 Western Ave., UAB 425,
Albany, NY 12222
Email: ssahebi [at] albany [dot] edu
I am an Assistant Professor in the Department of Computer Science at SUNY Albany. My research interests include data mining and machine learning with a focus on human-centered applications, such as recommender systems, educational systems, and online social networks. Check my research for more specific topics.
I received my PhD and Master's in Intelligent Systems Program from the University of Pittsburgh, my Master's in Computer Engineering from University of Tehran, and my Bachelor's in Computer Science/Engineering from Sharif University of Technology. More details can be found in my CV.
We have multiple open positions. If you are interested, take a look at opportunities -- funded open positions.
News:
04/2021: Honored to receive NSF CAREER award for the project "CAREER: Time-Aware Multi-Objective Recommendation in Online Learning Environments" (project link)
04/2021: Congrats Chunpai and Siqian for their paper accepted at EDM'2021 conference, titled "Learning from non-assessed resources: Deep multi-type knowledge tracing"
04/2021: Congrats Miley and Siqian for their paper accepted at The AIED'2021 conference, titled "Temporal processes associating with procrastination dynamics"
03/2021: Congrats Chunpai, Siqian, and Laura for their collaborative paper accepted at UMAP'2021 conference, titled "Knowledge tracing for complex problemsolving: Granular rank-based tensor factorization"
01/2021: Congrats Miley and Siqian for their collaborative paper accepted at The Web'2021 conference, titled "Stimuli-Sensitive Hawkes Processes for Personalized Student Procrastination Modeling"
12/2020: Congrats Miley and Siqian for their collaborative paper accepted at AAAI'2021 conference, titled "Relaxed clustered hawkes process for procrastination modeling in MOOCs"
10/2020: Congrats Mehrdad for accepted paper at WI'2020 conference, titled "Sb-dnmf: A structure based discriminative non-negative matrix factorization model for detecting inefficient learning behaviors"
10/2020: Glad to be serving as program co-chair for EDM 2021 (EDM 2020)
09/2020: Our paper "TransCrossCF: Transition-based cross-domain collaborative filtering" was accepted in ICMLA 2020!
10/2018: Glad to be serving as proceeding co-chair for RecSys 2020 (RecSys 2020)
08/2019: Congratulations to Dr. Mehrdad Mirzaei for successfully defending his dissertation on "Discriminative Factorization Models for Student Behavioral Pattern Detection and Classification". He is the first PhD graduate of our lab!
07/2019: Congratulations to Siqian and Chunpai! Our paper "Modeling Knowledge Acquisition from Multiple LearningResource Types" has been accepted to EDM 2020
07/2019: Congratulations to Miley! Our paper "Analyzing Student Procrastination in MOOCs: A Multivariate Hawkes Approach" has been accepted to EDM 2020
07/2019: Congratulations to Mehrdad! Our paper "Detecting Trait versus Performance Student Behavioral Pattern Using Discriminative Non-Negative Matrix Factorization" has been accepted to FLAIRS 2019
07/2019: Congratulations to Nam! Our paper "Review-Based Cross-Domain Collaborative Filtering: A Neural Framework" has been accepted to ComplexRec 2019
05/2019: Awarded, along with Dr. Reza Feyzi Behnagh, for the NSF CyberLearning project "Detecting and Predicting Procrastination in Online and Social Learning" (project link)
04/2019: Congratulations to Thanh Nam Doan! His paper"Rank-Based Tensor Factorization for Predicting Student Performance" has been accepted to Educational Data Mining 2019
03/2019: Congratulations to Mehrdad Mirzaei! His paper "Annotated Examples and Parameterized Exercises: Analyzing Student's Sequential Patterns" has been accepted to AI in Education 2019
10/2018: Glad to be serving as publicity co-chair for RecSys 2019 (RecSys 2019)
04/2018: Awarded for the NSF CRII project "Modeling Student Knowledge and Improving Performance when Learning from Multiple Types of Materials" (project link)
03/2018: Research Paper "Student Performance Prediction by Discovering Inter-Activity Relations" has been accepted in Educational Data Mining 2018 (link)
03/2018: The 2nd Workshop on Intelligent Recommender Systems by Knowledge Transfer and Learning (RecSysKTL) has been accepted in ACM RecSys Conference (RecSysKTL 2018)
02/2018: Selected as Fall 2017 FRAP-A Award recipient for research on Cross-Domain Recommender Systems.
02/2018: Program Committee member for the 11th ACM Recommender Systems Conference (RecSys), 2018 (RecSys 2018)
10/2017: Glad to be serving as student volunteer chair for RecSys 2018 (RecSys 2018)
09/2017: Program Committee member for the 8th International Conference on Learning Analytics and Knowledge (LAK 2017)
08/2017: Program Committee member for the 33rd ACM SIGAPP Symposium On Applied Computing - RecSys track (ACM SAC 2018)
08/2017: Program Committee member for the Web (WWW) conference - User Modeling Personalization and Experience Track (WWW 2018)
07/2017: "Cross-domain recommendation for large-scale data" has been accepted to RecSysKTL 2017
04/2017: Program Committee member for the 11th ACM Recommender Systems Conference (RecSys), 2017 (RecSys 2017)
03/2017: Program Committee member for the 1st Temporal and Holistic User Modeling Workshop (THUM), co-Located with UMAP 2017 (THUM 2017)
03/2017: Program Committee member for the 10th International Conference on Educational Data Mining (EDM 2017) (EDM 2017)
02/2017: The 1st Workshop on Intelligent Recommender Systems by Knowledge Transfer and Learning (RecSysKTL) has been accepted in ACM RecSys Conference (RecSysKTL 2017)