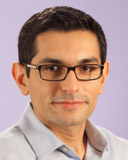 I am an Assistant Professor in the Department of Computer Science at SUNY Albany, and co-director of the Albany Lab for Privacy & Security (ALPS).
My research interests revolve around information security, privacy, and trust in computing environments. Check out my research page or ALPS for more specific topics.
I received my PhD in Information Science from the University of Pittsburgh, and my Master's and Bachelor's in Computer Science/Engineering from Sharif University of Technology and Ferdowsi University, respectively.
Interested in security and privacy research? Take a look at the opportunities and open positions.
News
03/21

NSF CAREER Award! CAREER: Black-Box Learning of Web Application Authorization Policies

–/20

Program committee member of ACM CODASPY 2021, ACM SACMAT 2021

12/20

Program Co-Chair of IEEE CIC 2021 together with Surya Nepal and Barbara Carminati

11/20

SUNY seed award for our project on privacy in educational systems (together with Shaghayegh Sahebi and Zheng Yan)

06/20

Best Paper Award of ACM SACMAT 2020 for our paper on active learning of relationship-based policies (together with my PhD student, Padmavathi Iyer)

12/19

Program Co-Chair of IEEE TPS 2020 together with Ravi Sandhu and Barbara Carminati
Spring 2021 Office Hours: Tuesday/Thursday 4pm–5pm. Join using the Zoom link available on course Blackboard, or request it via email.