Tutorials
All tutorial rooms are in the Gong-Cheng Building (公誠樓) of University of Taipei (UTaipei) - Bo-Ai Campus (臺北市立大學博愛校區). See map in the Venue page.
Tutorial I: Automatic Detection of Abnormal Events in Surveillance Videos for Online Processing and Low-cost Devices
Time: 9/21 Sat 8:00am to 12:00pm
Room: Conference Room 1 (會議室一)
Speaker: Victor Sanchez, University of Warwick, UK.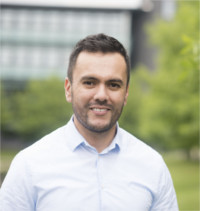 Abstract:
Several methods to detect abnormal events in video data have been recently proposed. Unfortunately, there is a lack of methods capable of detecting these events as frames are acquired, also known as online processing. Moreover, the computational complexity of many of these methods makes it very challenging to implement them in low-cost devices with low computational capabilities, such as mobile devices and those used in embedded applications. In this tutorial, we will review and explain the two main approaches used to design automatic video anomaly detection methods: traditional machine learning and deep learning. For each approach, we will explain and discuss their advantages and disadvantages for low-cost devices and online processing. This tutorial will provide a solid technical background on the design of automatic video anomaly detection when complexity and training and processing times are important concerns.
Detailed Tutorial Description (PDF)
Tutorial II: Deep Learning for Video Compression and Understanding
Time: 9/21 Sat 8:00am to 12:00pm
Room: Conference Room 2 (會議室二)
Speaker: Wanli Quyang, University of Sydney, Australia

Guo Lu from Shanghai Jiaotong University, China
Abstract:

This tutorial aims at reviewing the recent progress in the deep learning based video compression and video understanding. In the past years, deep learning techniques have been successfully applied to a lot vision task. However, for the image/video compression task, traditional non-learning approaches (DCT, Block based motion estimation and motion compensation, etc) are still employed for the mainstream image and video codec. Considering the powerful representation capability, it is possible to improve the image/video compression efficiency further by employing the latest progress in the deep learning. Recently, deep leaning based image and video compression have received significant attention from both academia and industry in the field of computer vision and image/video compression. In addition, based on the deep learning techniques, video understanding achieves amazing performance in the past years. In this tutorial, we will introduce the related deep learning techniques (including backbone networks and task specific network architectures) and the corresponding vision tasks (such as video detection or tracking).

Detailed Tutorial Description (PDF)
Schedule:
8:00-9:30: Introduction to deep learning (Wanli Ouyang)​
​9:30-10:00: Coffee Break​

10:00-10:30: Deep learning for Image and Video Compression (Guo Lu)​​

10:30- 11:30: Deep learning for Image and Video Understanding (Wanli Ouyang)​